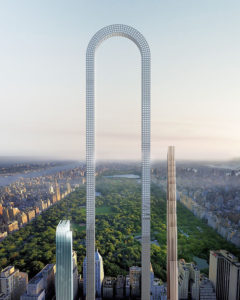 It's now official! Manhattan's is about to witness a new building not only for the state of new york but for the whole world, Plans have already been finished the U-shaped building is no longer going to be on paper but it's a reality now. It is said that this building's style is going to push the boundaries of architecture to a whole new level making it possible for other building shapes and forms to come to life, Humanity is still not familiar with the upcoming building which for sure will blow our minds!
The project was named the Big Blend and if carried correctly it could be the widest building that has ever been created in the whole world, beating all Dubai's world records, Also keep in mind the building will definitely need a complicated elevation system that isn't going to only move in a vertical way, Since the building is U-shaped there is a lot of work that is going to be done just for the elevators, Elevators need to be flexible and follow a 3 dimensional pattern from right and left to up and down. Kind of like an amusement park ride, the date of beginning the work concerning the building is still not known, All we know is that this world wonder is going to be build on the 57th street.
Oiio Studio is the company behind the project, It's a studio full of talented designers and architects making their ambitious project come to light even with all the problems they faced on their way, One of the obstacles was the city's land restrictions, Oiio studio stated on their official website that with the cooperation of the state and it's citizens they will be able to build one of the most impressive buildings in the history of humanity, They also added to avoid the state land laws they are willing to build wide instead of tall.
The Oiio Studio official website says that the U-shaped building is going to be the answer to expensive building which is a real problem in New york, The thing is that we're really skeptical about this statement, For us it seems that the opposite is what's going to happen, The apartments are going to be sold at a really expensive price since the shape and the location of the building are just perfect, But again who knows! Maybe they're right.
What are your thoughts? Do you want to see something like that in the near future or are you still not sure that this might be a good idea? Our whole team is very patient but we'd really want to see the beautiful building in our cities building collection since the studio assured that it's going to be built following the most complicated and mathematically accurate security procedures, So don't let the shape scare you 🙂